Our History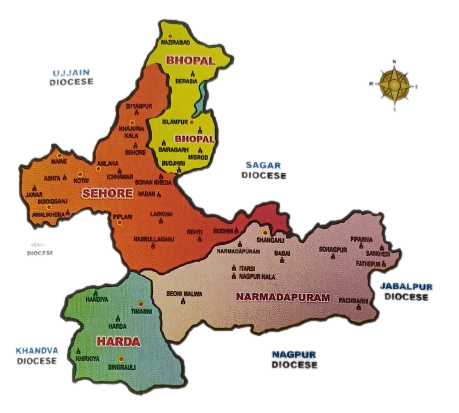 The history of the Catholic Church in Bhopal goes back to 1785, when Salvador Bourbon, a descendant of the French Royal Catholic Family of Bourbons, came to Bhopal to work for the reigning Begum Mamola at Bhopal .In 1829 Bhopal was officially a part of Agra Vicariate. It was Bishop Hartmann OFM,Cap, who is in a very real sense the founder of the Church of Bhopal In 1873 he acquired a plot of land from the Muslim ruler of Bhopal and built the first little church, which, in 1964 became the Cathedral of the newly erected Archdiocese of Bhopal.
In 1886 the Archdiocese of Allahabad was formed and Bhopal was then attached to this new Archdiocese . On March 11, 1935. the Mission Territory of Indore was elevated to Prefecture to Indore. In 1958 the capital of the state of Madhya Pradesh was shifted from Nagpur to Bhopal and this necessitated the creation of the new Archdiocese of Bhopal. Bishop Eugene D'Souza was transferred from Nagpur to Bhopal to be its First Archbishop.
Archbishop Eugene laid down his office and handle over to Bishop Pascal Topno, SJ, of Ambikapur, who was promoted as Archbishop of Bhopal on May 20, 1994. On June 15, 2007 Pope Benedict XVI appointed Dr Leo Cornelio as the new Archbishop of Bhopal Suffragan Archdiocese of the archdiocese are Gwalior, Indore, Jabalpur, Jhabua, Khandwa, Sagar (Syro-Malabarese), Satna (Syro-Malabarese), Ujjain (Syro-Malabarese).